Even though subway tiles have been one of the most common backsplash options for at least five decades, and they still are a common option, you can certainly find other backsplash tile ideas that will best define your style.
There are endless possibilities for the backsplash, below you can find some of the most popular alternatives to subway tiles, mixed with some of the most original ones.
ELEGANT AND CLASSY, WITH A LITTLE TOUCH OF MODERN FEEL THAT FITS ANY KITCHEN DESIGN
Hexagons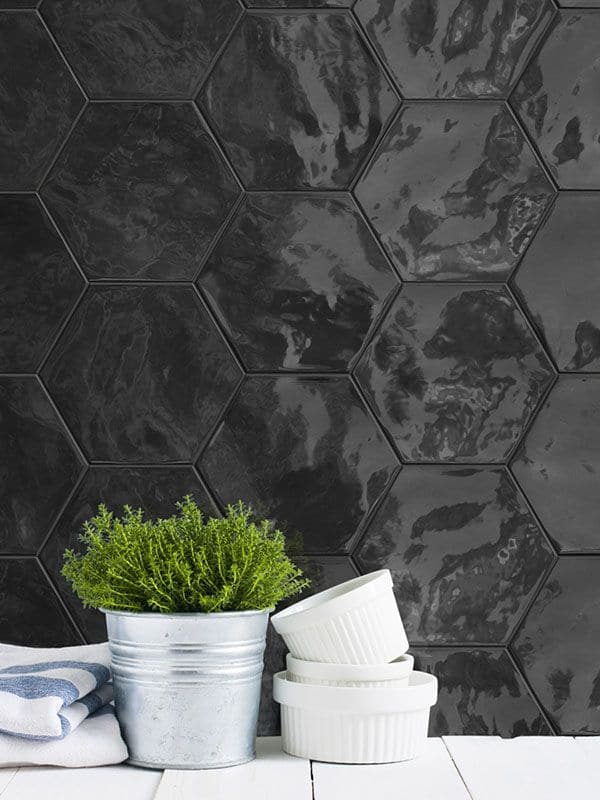 These small tiles have been popular since World War 2; they are made for elegant and high-class designs. Hexagon mosaic tiles create a small repetitive pattern that enhances the floor simplicity by giving a clean yet detailed look to the wall decor.
Because of the repetitive and geometric design, they are a very versatile element when using different colors of grout.
The evolution of the hex mosaic tile is the elongated hexagon that, with its long shape, gives a touch of a modern look even in a traditional design.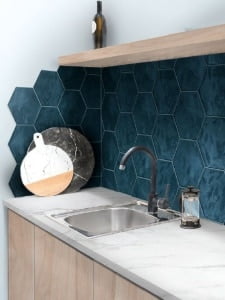 Sizes vary from 1" to 10" most of the time, making it the perfect element to complement many styles.
Various materials, colors, and textures are the key characteristics to perfectly design every environment. You can find them made of ceramic or natural stone, glass or porcelain, as well as composite materials. Endless options are available to create a unique design and add your personal touch!
Arabesque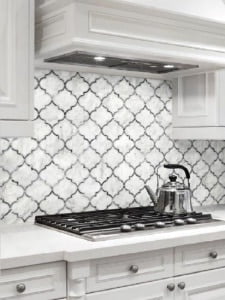 These tiles are inspired by Turkish and Moroccan silhouettes, bringing an elegant, exotic and charming feel to our homes. Black and white colors are mostly used for a classic look, while colorful options are often used for making a statement.
The surface of the tiles is often irregular, to resemble the handmade tiles from the original manufacturing. That touch of vintage, old-world finesse, claims attention even in a very small area. It is perfect to use as an accent over the stove in a kitchen backsplash design.
Arabesque tiles are also called Moroccan or Lantern tiles.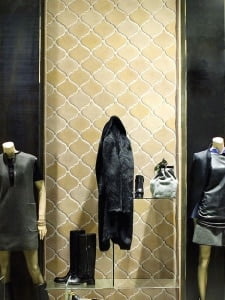 These beautiful tiles come in different sizes, mostly from 2" to 6" diameter.
They are timeless in ceramic or marble but are available today in porcelain, glass and even mirrors. When mixing the materials together into a mosaic, the arabesque tile adds a perfect personal touch!
Pickets
A new main feature in today's tile stores are the Picket Tiles, also called "Crayons", that challenges the subway tiles in a more modern approach.
These long and pointy shapes are sometimes mistaken for elongated hexagon, though they belong to the family of the subway tiles. The glossy ceramic variety will be mostly used for walls in kitchen backsplash or in showers, while porcelain that looks like wood is often installed on the floor to create that parquet look of a mid-century design.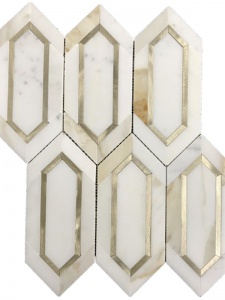 If you prefer a more modern and original combination, you can install them vertically – the up & down effect will create all the decorative element you need in a room.
These type of tiles usually are available in 3×6 or 3×12, as a typical size of a simple subway tile. Ceramic pickets, either glossy or matte, have a hard time competing with the porcelain ones, that can take on the look of hardwood or marble or even concrete.
Cement Tiles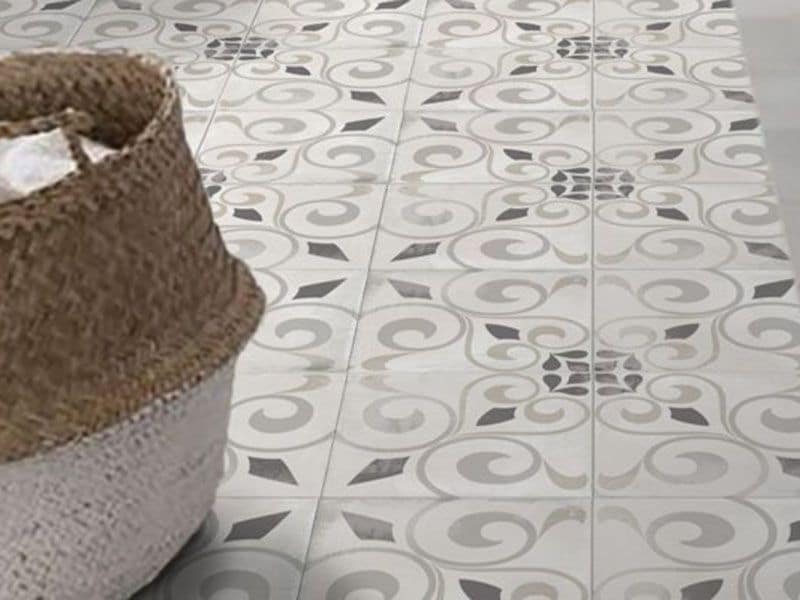 In this category, we find a decorative tile option that has been influenced by the Italian design as well as the Mexican tile look. Not only do these patterns and decors offer the most original Old-World look, but they also add a feel of history. The aging of the tiles will show over the years, acquiring the style of a real antique floor.
A square 6×6, 8×8 or 10×10 are the most common sizes.
Contrary to their beauty and design appeal, real cement tiles require maintenance, such as the application of a sealer to protect them from stains and scratches of the daily wear and tear.
If this is not a commitment you want for your walls, you can opt for the porcelain tiles that look like cement tiles. Porcelain won't offer the same beauty, but it will require less or no maintenance at all.
Glass Mosaics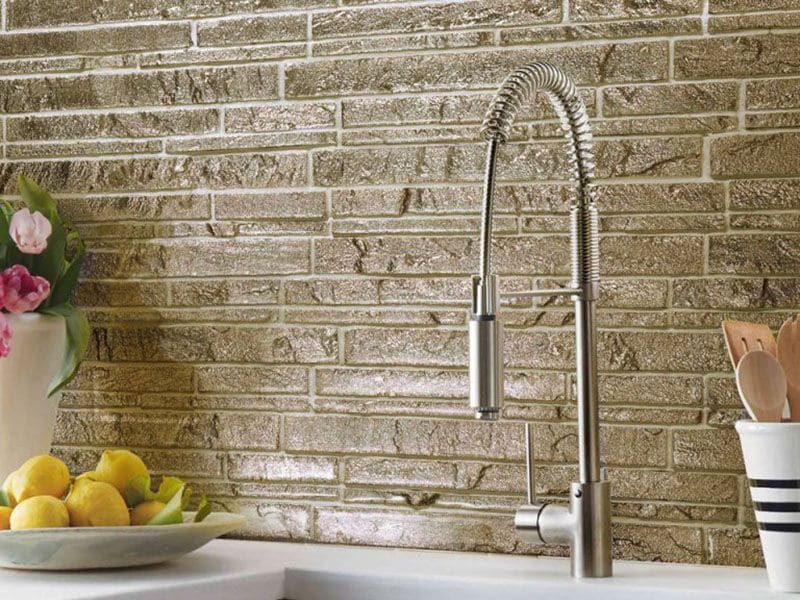 The most colorful and bright designs are offered by a combination of small glass mosaics, sometimes in the shape of a 1" square, and sometimes in the form of a Penny Round.
You can often find glass mosaics used as pool liners, though bathroom applications are most common thanks to the clear, water-like texture.
The availability of colors and shapes makes the material a perfect option to show your own personality in your design and to ensure it is original and unique.
Glass is another timeless material, it is always trendy, and never goes out of style.
For more texture and less gloss, glass tiles come in these variations: crackled glass, frosted glass, stained glass, as well as glass with waves or stripes to create a stunning contrast.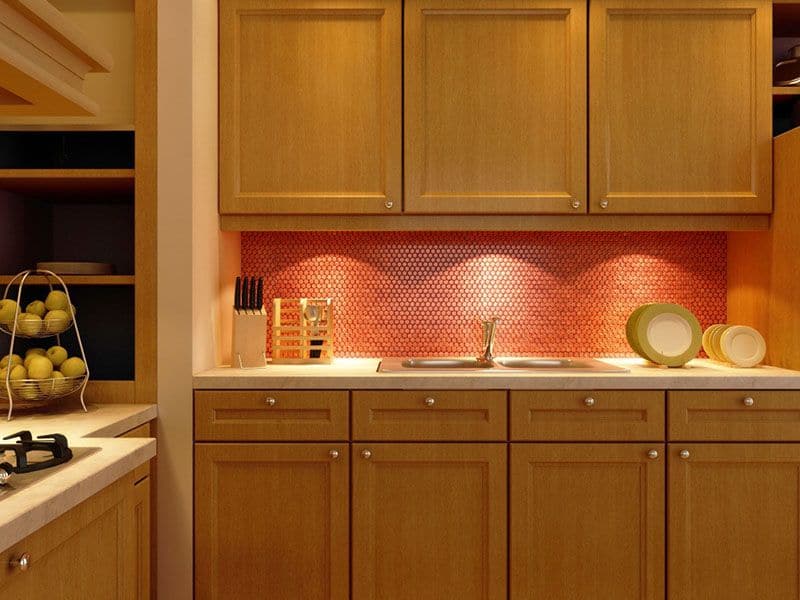 The most common sizes are the 1" or 2" rounds or squares or the subway shape usually available in 3"x6", 3"x12" or 4"x12".
They are also available in interlocking strips, usually mixed in with natural stones or cast metals.
Large Format Tiles
One of the most amazing innovations among the backsplash tile options are the large format tiles that offer a flawless design on the wall space and ensure the most elegant and high-class design option.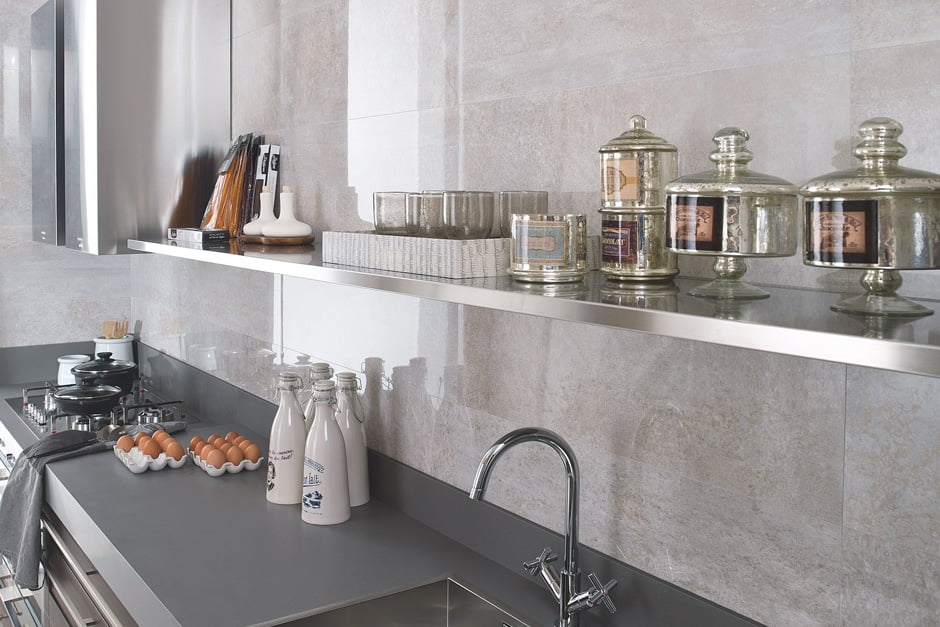 The first benefit of the large format tiles on the backsplash application is the minimum amount of grout lines. Some of these options have no grout lines in the case of panels or slabs that extend from the countertop material.
This option adds volume to the overall aesthetic look of the room, offering extra light and sense of open space to the kitchen.
Large format tiles for backsplash application are tiles that range from the well known 12"x24" ceramics or porcelains, most common size for floor and shower walls, or larger panels that can reach 120"x60" – this type of tile often requires hiring a contractor who is specialized in these formats. This might seem an obstacle to your project, but it ensures a professional result that looks completely custom.
Bricks
The use of bricks as the kitchen or wall decoration is undoubtedly becoming more popular every day. This modern industrial and rustic mood that is popping up in many restaurants and shops is also a popular addition to add charm to the home.
This style is bringing in the early 1900s American History with exposed brick, a City like a house that has that little bit of New York or Brooklyn, something shabby and yet elegant and calculated. With just the right amount of texture, it adds roughness and a handcrafted edging profile. Greys and reds can be white-washed to create an original and unique design to each individual backsplash, and they are mostly used for kitchenette areas, bars, and wine cellars.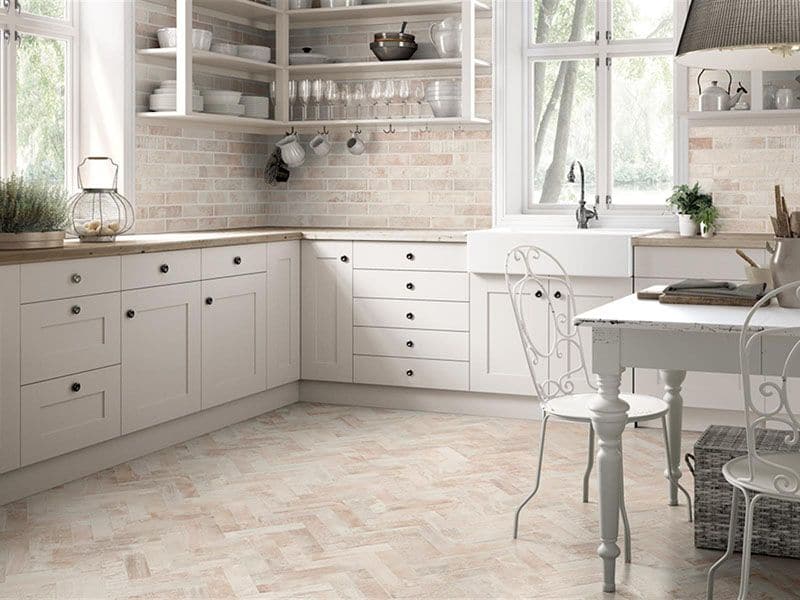 Generally, bricks vary from a 3×6 to a 4×12, with very few exceptions on sizes.
They can be made in clay, meaning real bricks, or they can also be made in porcelain and concrete (veneer bricks). These three main type of materials require a different level of maintenance, but due to the roughness of the surfaces, they are usually one of the most challenging options to keep clean on a kitchen backsplash.
The bright side is that when bricks are stained, they look more "real", so skipping the extra maintenance could end up being beneficial to the look.
Designed Murals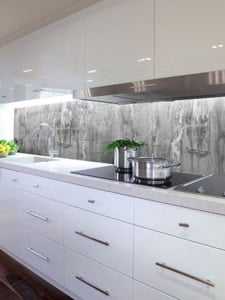 For a completely original look on the backsplash of your kitchen, you might want to opt for a designed panel. You might have seen this type of backsplash in modern kitchen design examples, where the wall looks like a waterfall made out of a bamboo forest, or it displays the Universe as a background, or even a gorgeous and intense deep ocean with mesmerizing fish and underwater nature. These panels are usually custom made, or when premade they are available in big tiles like the large format tiles we already discussed. They can be glossy, textured, or matte – there are many finishes available to these custom designed backsplash options. It is a way to make your kitchen the main feature and an artistic element of the house.
Ledger Panel Stones
There are many traditional options on the market that keep up with all the modern trends, and the Ledger Stones are indeed one of them.
They are most loved by families who live in country style homes and homes that have other stone features like a stacked stone fireplace in an adjacent family room.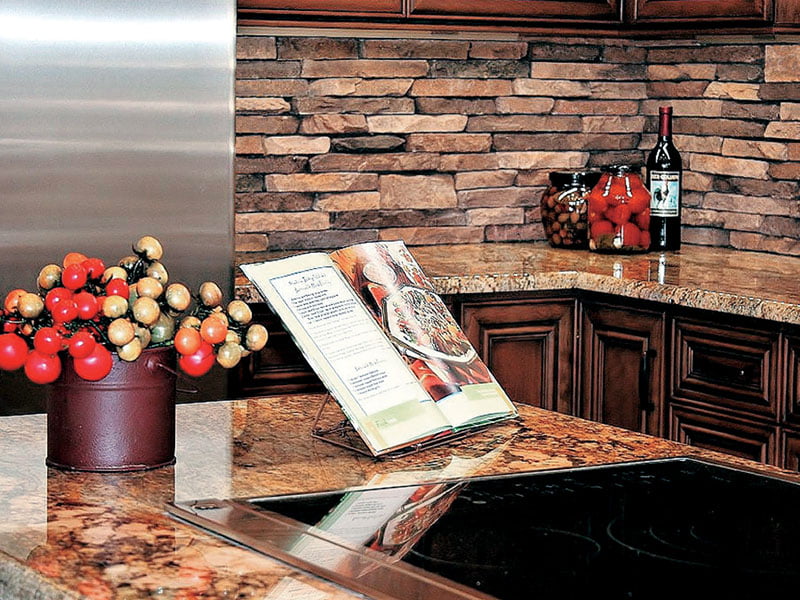 Ledger Stones don't need grout, and the tridimensional shape brings an illusion to the eye, it contrasts light and creates a more dynamic background to the room.
Depending on size and texture they can work in a modern or classic design while keeping a traditional feel.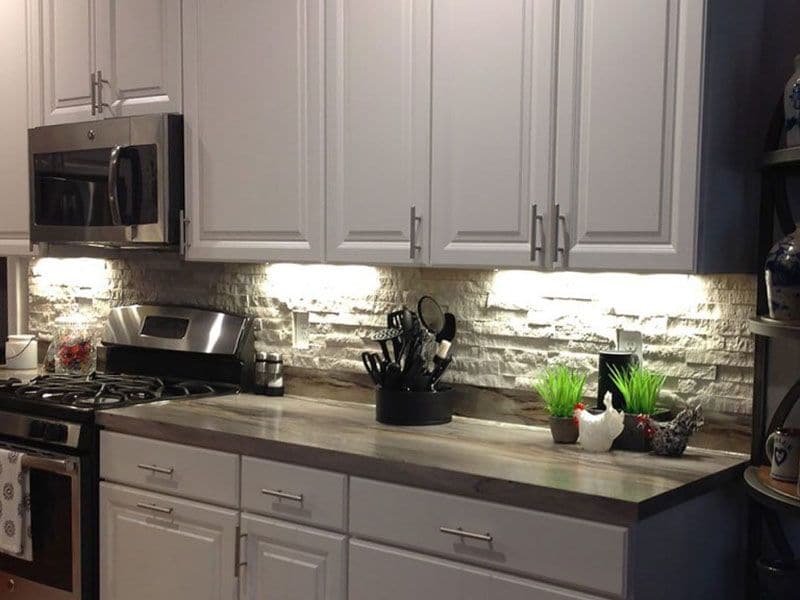 Ledger stones can be made of real stones or veneers, and they have endless sizes available. The style can vary as well, from a regular size that is repetitive, to an almost entirely random pattern of shapes and sizes.
Wood Plank Look
A specialty backsplash is the wood plank tile used to complete a warm and rustic design. Wood plank accent walls are a significant feature in the modern rustic design, very trendy and almost required from the shabby-chic world. So, why not use it as a backsplash?
The wood plank tile size adds length to your backsplash, tricking your eye to make it look wider, and it opens up the room showing a more extensive space. It combines rustic-country warmth and coziness with industrial design. To complete the look, this design pairs well with naturally stained wood cabinetry and brass fixtures, and it blends perfectly with marble look countertops.
Wood look planks can be in real wood, but most of the applications are achieved with porcelain tiles for the lack of maintenance required. There are several textures available, and sizes as well, anywhere from 3" to 9" wide and 24" to 48" length.