MAINTAIN YOUR TOP AS NEW AS THE FIRST DAY!
The right care for your granite countertop will preserve the stone for a very long time.
It is crucial to use the right products for your daily cleaning, to avoid harming the surface and creating damages.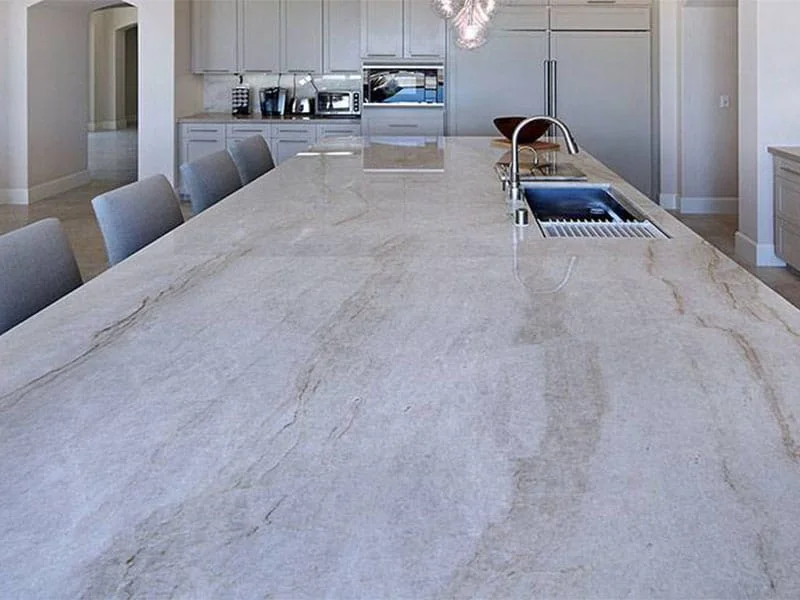 Here a few rules to remember:
BLEACH IS THE ENEMY
Bleach is a very acidic and harsh chemical, it is harmful to any surface as it removes the sealer and penetrates the pores, creating stains, wearing off the shine, and weakening the stone that will soon become dull and crack.
DON'T USE VINEGAR
Another high acidic liquid is vinegar, that is strongly dangerous for granite stones. The acidity of the vinegar will create stains on the slab and will wear out the glossy finish to it.
USE A PROFESSIONAL CLEANING PRODUCT
Using a professional cleaning solution is the best recommendation, as they are studied with the purpose of deeply cleaning the stones and protect them, making sure they won't remove the sealer coatings from the surface. A professional cleaning product will help you to remove small stain spots, as well as to restore the shine of the stone to a certain extent.
IF YOU DON'T HAVE THE RIGHT CLEANER
A great way to daily clean your natural stone surfaces is to use a combination of warm water and dish soap. In fact, dish soap is a well balanced product that is thought for being in contact with your skin. It removes food residues, it does not hatch into the surface, and it is a potent yet delicate degreaser. Just mix 3 part of water and 1 part of dish soap into a spray bottle and apply. Make sure to rinse well.
KEEP YOUR GRANITE SEALED
Most of the granite fabrication companies nowadays offer a LifeTime sealer for the countertops, an application that will keep the granite sealed for about 20 years if properly maintained. But this is an optional, and not all the companies offer this extra protection. The most important thing for our stone is to keep it properly sealed, to avoid stains to penetrate through. We recommend to seal your granite once a year, either hiring a professional company, or using professional products that you can buy at tile stores.
IF YOU ARE NOT SURE, CALL AN EXPERT
Most importantly: if you are not sure if a product might be good for your countertop or not, reach out to an expert and ask. It's better to take the time to ask which is the right way, than risking to harm our slab. Contact a tile store, or a countertop warehouse, or an installer – ask for help, keep your countertop as new as the day you installed it.