Alright, bathroom is almost done… we just need to decide what to do with the tub… right? Easy Peasy!
But now, will you get a freestanding tub like all those pictures online show, or like your Realtor Agent is recommending for a future resale? Or will you keep the tub you have, because it's still looking fine and yes, it's has yellowed a little bit during the years, but at the end it's still a jacuzzi? Or are you maybe getting a drop-in tub and tile all around?
There are nowadays so many types of tubs with so many different features, it will take a some more effort to choose the right one for your needs.
Ask yourself what are the style and the idea you want for your new bathroom, and most important is to understand how you use your tub.
Bathtub types
As we always recommend, you should consider a Pros and Cons list to help you decide which option is best for you, to choose between the type of installation or the bathing experience.
Which style do you prefer for your tub?
Freestanding Tub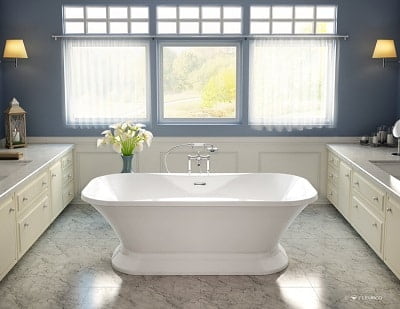 These are standalone tubs, that sit directly on the floor without the support of a wooden deck around, and without a front or a top area to be tiled. Usually they have a space all around that leaves open some areas of the walls behind the tub.
These tubs are the most popular option lately, they come in many different styles and shapes. It's easy to accommodate a modern or a traditional bathroom design, depending on what mood you are looking to achieve for your bathroom.
Certainly given a clean and open look, these tubs thou lack of counter space. You will always have to have a side table or a caddy to keep handy your soaps, candles and wine!
Drop In or Undermount Tub
The old ways are the best ways, someone would say, especially in those homes that want to keep some of that traditional style going on in the rest of the house.
What was the most popular option until the last decade is still a popular choice, the drop-in tub.
But most of the time, to ensure a more updated style even to a traditional design, you can decide for the undermount tub.
This style uses tiles to cover the front apron, and it surely does not make your bathroom look any bigger and open. But on the other side, both of these options offer a very large counter space on sides and corners, where you can store all your bathroom supplies.
The top of the tub deck can be covered with tiles or solid surfaces, you could also consider the possibility to use the same countertop material, whether being quartz or granite or even marble, to make your bathroom more consistent and finished.
If you are a person who has problems getting in and out of the tub, one of the most important undermount tub pros to consider is that you can sit on the wide countertop and slide in and out the tub easily.
3-Wall Alcove Tub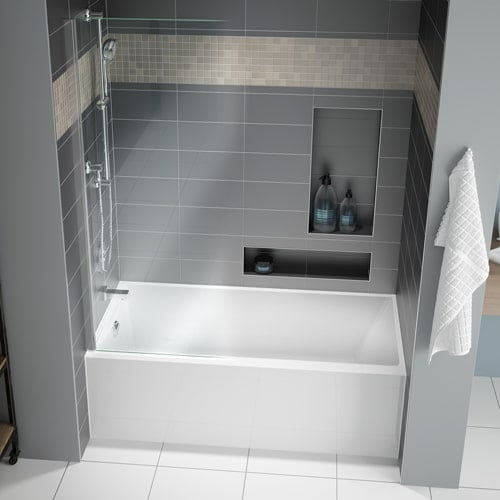 The most budget friendly option is still certainly the simplest of all, the tub that fits into those 3 walls and already has a closed front. Most of us will remember these tubs from a guest or a Jack&Jill bathroom, and will certainly think that those are not real tubs… trying to take a bath in one of those almost feels like a pedicure!
ALSO IN MASTER BATHROOMS
Today's market offers a more updated solution for this type of tub design with a deeper and larger capacity tub, that can contain almost as much water as any other. Allowing also a full grown person to soak, relax and enjoy his bath experience.
What are the available tub functions you can choose within?
Soaking Tubs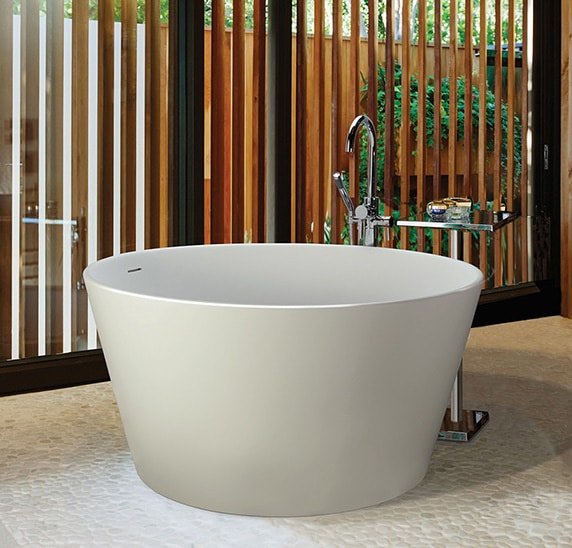 If you are planning on a long and relaxing bath, a rejuvenating experience, this is the tub you want! And really it does just what the name suggests, it is a comfortable place for you where to soak.
Many shapes are available, oval or rectangular tubs, made in acrylic or in cast iron, with a clawfoot, with a skirt, with a slipper side or double slipper, or the latest popular Japanese tubs with their smaller size but taller walls. Soaking tub maintenance is basically zero, which makes it the perfect companion in a bathroom where it won't be used much.
Jetted Tubs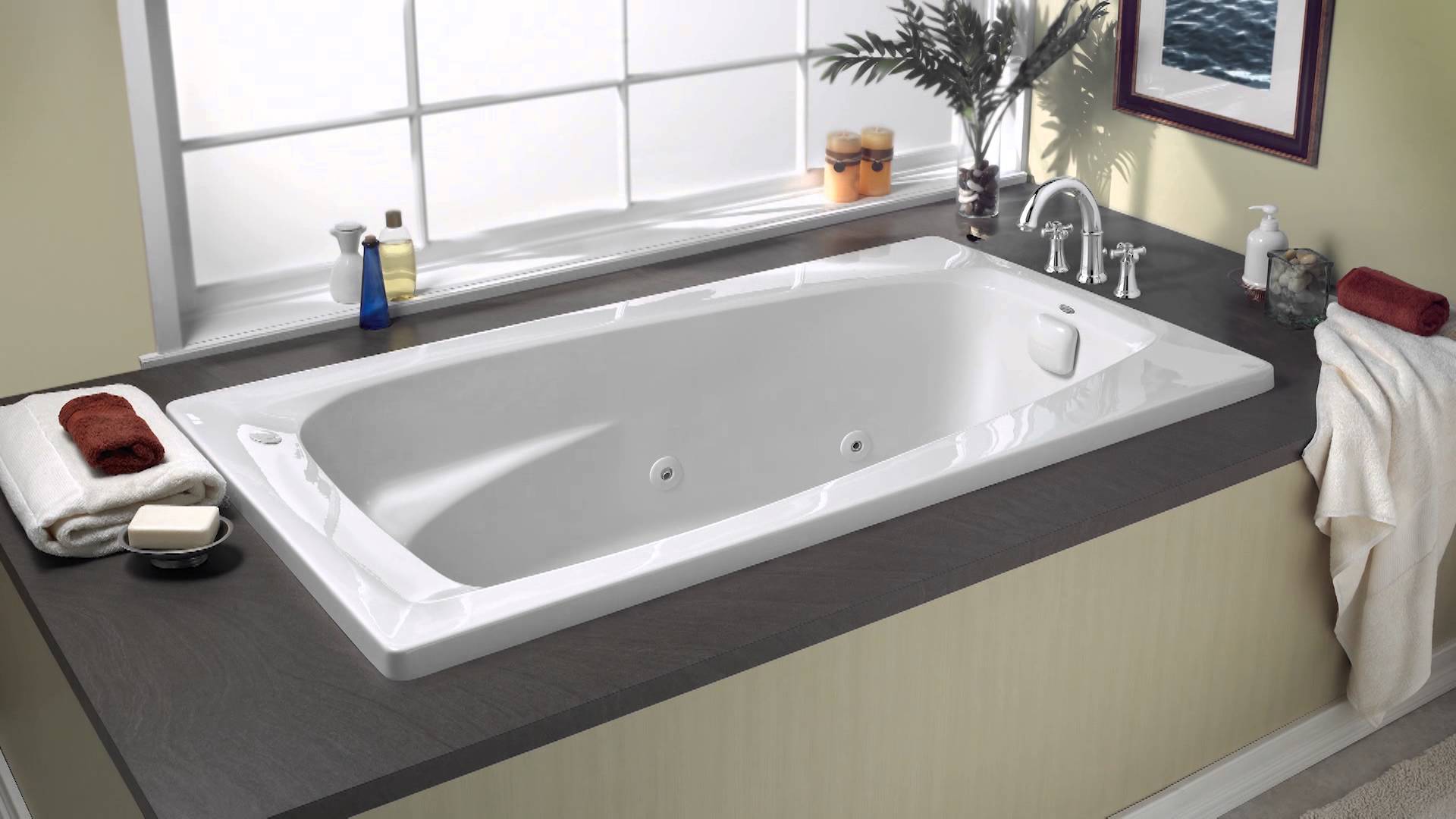 Also known as Whirlpool Tubs, they emit a jet mixed of water and air that provides massage and hydrotherapy during the bath. The experience is enhanced, and very relaxing.
Most of the jetted tubs on the market are undermount or drop-in options, only few manufacturers offer a freestanding jetted tub alternative. For this reason they do take more space in the bathroom, and because of the water running in the pipe some type of maintenance of jetted tubs is required regularly, to avoid bacteria build-ups.
Some products offer a self cleaning function.
Air Bath Tubs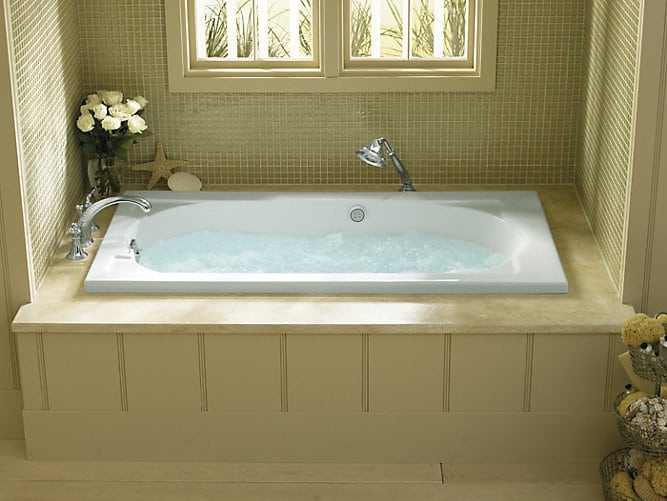 With many tiny holes on the bottom of the plate, the air tubs offer a soft bubbling experience during the bath. These particles of air are heated, and in addition to the kinetic motion of the little bubbles, they help to maintain the temperature of the water warm for a longer period of time. These tubs don't require much maintenance, but it is recommended to run the jets of air before and after the bath, to completely dry the lines from any residue of water and clean them from any deposited dust.
Air bath is a feature that can be present in any tub of any shape, a perfect match of style and commodity.
Now with all these information, it will be helpful making a pros and cons list of your needs.
Always prioritize your list evaluating which features you need, which you may want as extra, and which instead it might just be nice to have.
Make sure you choose the tub you love, for you and your family to enjoy at most!