In the realm of home remodeling, few projects can upgrade a home quite like bathroom and kitchen renovation. Today, we delve into the renovation of a primary bathroom that combines timeless elegance with modern functionality. Let's look at what makes this marble bathroom so luxurious.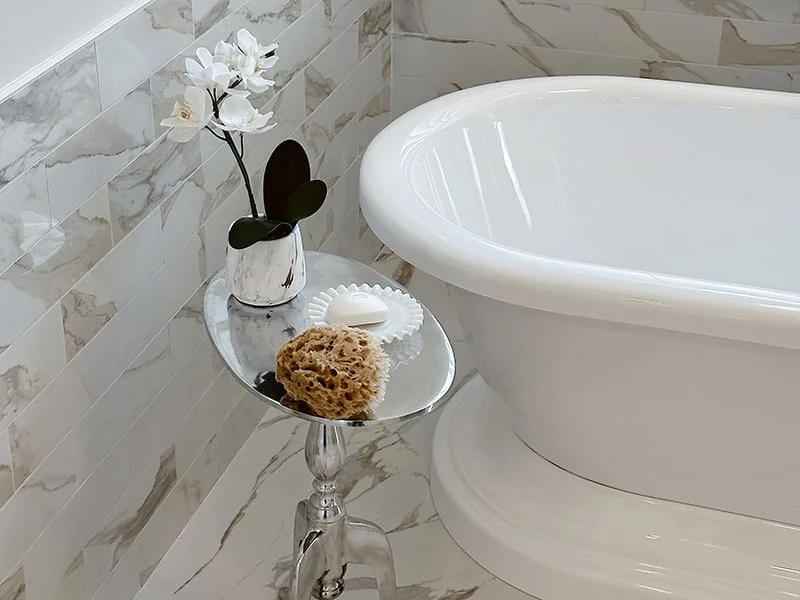 Breathtaking Tile work and Large Format Floor Tiles
As you step into this master bathroom, your eyes are instantly drawn to the exquisite tile work. The entire floor boasts large format 24×48 tiles, which add a sense of grandeur and modernity. This size of tiles allows for a beautiful look, especially thanks to the straight layout pattern. Also, it lets you appreciate the design of each individual tile without getting too busy and overwhelming. The walls in the shower and around the tub are detailed with smaller size tiles to coordinate, giving the bathroom a more updated look. 
Elegant Vanity Cabinets
The vanities in the room are from Wellborn Cabinets, showcasing the Galena Square with an inset door style, then painted in a warm tone of white called Glacier. These semi-custom vanities are just one element to bring attention to detail in this renovation project. With their clean lines and classic design, the cabinets blend functionality with sophistication. They offer ample storage space and create a cohesive look throughout the bathroom.
Level-Entry Shower System
One of the standout features is certainly the level-entry shower system. A curbless shower removes the need for steps or barriers, and it provides a seamless transition between the shower and the rest of the bathroom. The sleek and unobtrusive design allows for easy movement while maintaining the overall aesthetic appeal.
Premium Quartz Countertop
Countertops on the vanity and top for the shower bench both are showcasing the stunning color Frosty Carrina from Caesarstone. This premium quartz surface adds a touch of luxury and sophistication to the space, with its subtle veining and timeless appeal. This countertop material has the perfect look, but it also offers durability and easy maintenance, making it a perfect choice for this marble bathroom project.
Heated Floors
No luxury bathroom would be complete without the comfort of heated floors. This renovation project includes heated floors, assuring every moment spent here is a warm and cozy experience. Adding heated floors provides a practical and comfortable solution for chilly mornings. With the dedicated thermostat, it is also energy efficient.
As we conclude, the transformation goes beyond mere aesthetics of a classic marble bathroom. This redesigned space is the result of the art of creating a comfortable and enjoyable bathroom experience. Every detail has been carefully considered to give homeowners with a sanctuary of relaxation and luxury.
Homeowners can relax and find peace in their newly renovated bathroom. It's a space where to rejuvenate, unwind, and savor the simple pleasures of the everyday routine.