White Transitional Kitchen
If you are thinking of inspire your renovation project with white kitchens 2022 is the perfect moment to start. You can begin from the Picture Gallery of the beautiful Transitional White Kitchen we so much love!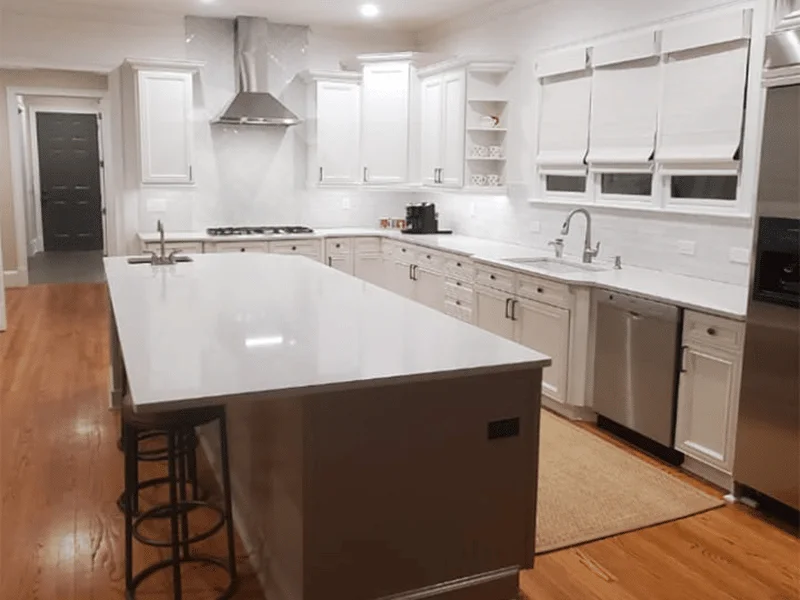 This project was created by the designer and the homeowner to obtain a complete clean look kitchen, with white-on-white tones and an open feel.
White kitchens have been a popular design choice for many years and continue to be a top pick for many homeowners. There are many reasons why people love white kitchens, but some of the top reasons include the bright, airy look that they provide, as well as the fact that they can be easily paired with any type of décor. White kitchens also offer a ton of flexibility when it comes to storage, as they can accommodate a variety of appliances and cabinets. Plus, they're easy to keep clean and maintain.
What inspired the project of a beautiful white kitchen design
If you're looking for a fresh, new kitchen style, the transitional white kitchen may be perfect for you! This style combines elements of both traditional and modern design, resulting in a look that's both timeless and on trend. And best of all, transitional white kitchens are surprisingly versatile, meaning they can work with a variety of different layouts and color schemes.
The kitchen is often considered the heart of the home. It's a space where families come together to cook and eat, and where memories are made. So when it comes time to renovate or remodel your kitchen, it's important to choose a design that will inspire you for years to come.
If you're looking for a fresh, new kitchen design, you may want to consider a white kitchen. White kitchens are timeless and classic, and they never go out of style. They're also extremely versatile, which means they can be tailored to fit any style or taste.
So what inspired the project of a beautiful white kitchen? Well, there are actually several reasons why people choose this type of design. For starters, white kitchens are perfect for small spaces because they make the room look bigger.
Materials used in the project and what makes them special
In this particular case, the white-on-white design helps enhance the beautiful warm tone of the hardwood floor, and allows the homeowner to decorate the kitchen for every season without any other color commitment. 
The incredible elegant and clean design of the white countertops gives credit to  Cambria, one of the leader manufacturers in the world for countertops, that offers the crisp design of the ELLA from Cambria.
The backsplash is a gorgeous hand-made look porcelain white subway tile, that shows a slight different texture on each individual tile – its look helps create a more cozy accent wall, calling back to the old world design of handmade tiles. 
Installed on a herringbone over the cooktop, and in a brick pattern in the other areas of the kitchen, the TOTALOOK from EmilCeramica is a must for such a crisp design! 
All-White Kitchen Design
White kitchens have a clean, modern look and are popular among homeowners. They can be customized to fit any style, and are often seen in luxury homes. Some of the advantages of a white kitchen are that they are easy to clean and can make a small space look larger. They also reflect light, which makes the room appear brighter.
When not possible to crate an all-white kitchen in the house, a good idea is to introduce a white kitchen island. The light color of the countertop will open up the space at first sight.
In order for a kitchen to appear light and bright, it is often best to have a predominance of white in the color scheme. This is especially true if your kitchen is small or in an area of the house that you want to appear open and airy. However, if your house does not allow for a completely white kitchen-due to structural limitations or other factors-there are still ways to introduce some white into your cooking space. One way to do this is by using white backsplash tiles, or white porcelain sink, as well as a white kitchen hood. While they may not be able to completely change the color scheme of your kitchen, they will help to lighten it up and give it a fresh appearance.